What tools will I need?
You'll find a list of all the tools needed in the Installation Instructions for your staircase. It's a fairly simple list: drill and bits (sizes are given), soft mallet, tape measure, spirit level, screwdriver, spanners, allen keys, hacksaw, plumb line.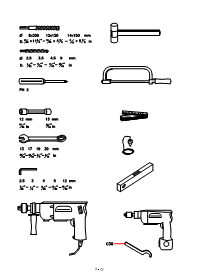 [Click on the image to open up a full size typical example page.]
---
Our Two Top Tips:
Use a magnetic spirit level. You'll see just how useful it is when you watch the Installation Video!
If you're installing one of our modular staircases, it will help if you prepare some pieces of timber to use as supports if you don't have the adjustable props used in the Installation Videos.
---