Description
Set of 11 powder coated steel riserbars to fit between the open treads of the Oak30 SpaceSaver Staircases.  Available in three colour choices to match your staircase – Black, White or Iron Grey.
Riserbars fit between the treads to create a gap of less than 100mm between the treads for UK Building Regulations. If you are including any additional treads (up to a maximum of 3), you will need to purchase the larger size Riserbar Set – 15.
---
PLEASE NOTE: It is your responsibility to ensure that any Local Authority approvals necessary have been obtained. This will vary according to your application and we advise you to always check before going ahead with a purchase.
---
The delivery takes approx 4-5 weeks. Please note that there will be an additional charge of £155.00 inc VAT per consignment if the accessories are ordered separately as they will be delivered direct to you from Italy and this covers the delivery and customs processing charges. Just click on this item to add it to your shopping cart. If the accessories are ordered with a staircase, the delivery cost is included.
---
| | | |
| --- | --- | --- |
| Steel Colours | | |
| Iron Grey | | |
| Black | | |
| White | | |
| | | |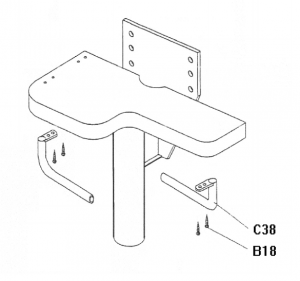 Riserbar Instruction Details